(The Lily Sparrow Chronicles #1)
by Kristee Ravan
YA Urban Fantasy
Paperback, 367 pages
March 17th 2014
Fairy tales are naturally non-mathematical. That is a fact, and fifteen-year-old Lily Sparrow loves factual, mathematical logic. So when her mother confesses that Lily's deceased father is (a) not dead, (b) coming to dinner, and (c) the ruler of a fairy tale kingdom accessible through the upstairs bathtub, Lily clings to her math to help her make sense of this new double life (1 life in the real world + 1 secret life in the fairy tale world = a double life).
Even though it's not mathematical, Lily finds herself being pulled into a mystery involving an unhappy Cinderella, a greasy sycophant called Levi, and a slew of vanishing fairy tale characters. Racing against the clock, with a sound mathematical plan, Lily attempts to save her fairy tale friends while proving that normality = happiness.
On Lily's 15th birthday she finds out her life has been a lie. She starts the day being told she can not take more than one math class. For Lily that is upsetting because she really loves math and uses it in all parts of her life. She comes home to find out her dad isn't really dead but the king of a fairy tale land. Her parents do not seem to understand why she is so upset and confused. On top of all of the strangeness she is told she is a princess and will have to go and fulfill her duties. She then meets a dad Cinderella and try's to help her and save all the disappearing fairy tale characters. Will he life be normal again? Does she truly want to be normal?
This is a very interesting spin on fairy tales. I did truly enjoy the story. It was fun to think how I would feel as a teenager in this situation. She uses math to rationalize life. For a 15 year old girl I did not find her annoying. Most of the time the female character can be whinny and boy crazy. Lily was not like that and I was glad for a change of pace. A great fun read.
Calling for Reviewers!
We're looking for reviewers! You don't need a blog to sign up, but you do need to at least post a review on Amazon. Other sites (blog, Goodreads, etc.) are also appreciated. Reviews must be completed by the end of November. To sign up, please fill out
this form
.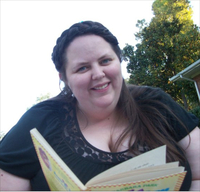 Kristee Ravan
lives in Oklahoma with her husband, daughter, and pet fish, Val (short for Valentine). She wanted to be many things as she grew up including a general, an artist, and an architect. But she never bothered to say, "I want to be a writer when I grow up." She was always writing stories and thought of herself as a writer anyway. She sent her first story to a publisher in the sixth grade. (It was rejected - in a nice way.) When she is not making up stories in her head, she enjoys reading, juggling, green smoothies, playing dollhouse with her daughter, and hearing from her fans. You can contact Kristee at the facebook page for her Lily Sparrow books: The Lily Sparrow Chronicles.
5 copies of The Cinderella Theorem (print for US winners, ebook for international winners)
Ends August 31st